BIANCA - PIPEDREAM ULTIMATE DOLL COLLECTION. Our famous dolls at the best price guaranteed in Montreal. ADOPT BIANCA now with SEZZLE.
Removable from head to toe right down to your fingertips!

Pipedream Ultimate Fantasy Dolls are carefully created to make fantasies come true and inspire intimate pleasure on all levels.

With genuine attention to detail and super soft Fanta Flesh skin, Ultimate Fantasy Dolls will make all your dreams come true!
Bianca is 168cm (66in) tall, with intricate hazel eyes, strawberry blonde hair, supple lips, a realistic pussy, movable joints and lifelike toes.

Her whole body is supported by an ultra-resistant stainless steel skeleton with movable and foldable joints, like a real woman! Bianca weighs 85 lbs (38.5 kg) and can be posed in any position.
Demoiselle Bianca arrives at your house with all her luggage.



- (1) Cleaning irrigator
- (1) USB heating wand
- (1) Lingerie set
- (1) pair of white cotton gloves
- (2) TPE Vaginal Inserts / Masturbation Sleeves ' (1 'already inserted)
- (1) strip of TPE material '(for repair / modifications)
- (1) set of replacement pressure nails
- (1) Maintenance and use guide available in

English, French, Italian, German, Spanish,

dutch and russian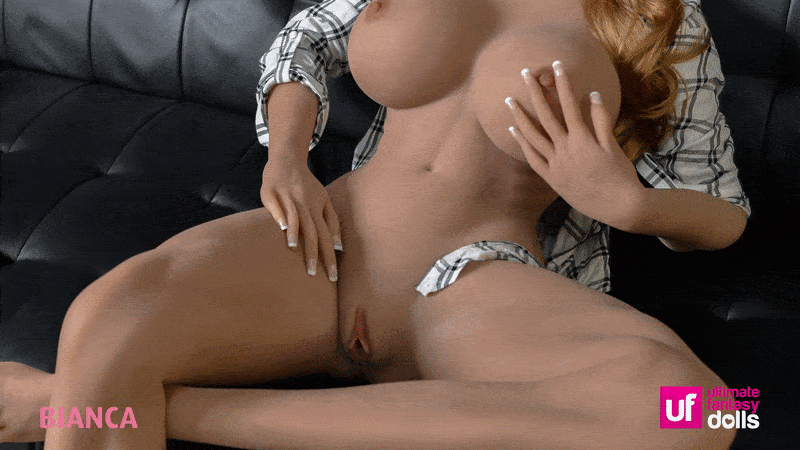 Dimensions

:

Height: 66 '' (168 cm)
Weight: 85 lbs (38.55 kg)
Shoulder width: 14 '' (36 cm)
Bust: 37.5 (96 cm)
Bust: 25 in (64 cm)
Waist Size: 23.5 (60cm)
Hips: 36 (92 cm)
Cuff: 4.5 '' (11.5cm)
Thigh circumference: 20 in (50 cm)
Calf cir: 13 '' (33 cm)
Cup size: L
Clothing: S - M
Shoe Woman: 7 (37-38 Euro)
Features and Benefits:



- Incredibly realistic appearance
- 3 realistic entries
- Highly advanced posable skeletal system
- Smooth and silky surface
- Superb attention to detail
- stands alone
DON'T WAIT FOR THE PERFECT WOMAN, BIANCA IS WAITING FOR YOU!




Each Ultimate Doll comes in an unmarked box with only the item number on the outside (no retail packaging), allowing customers to transport their purchases with discretion.
-
The dimensions of the box are 61½ x 16½ x 11½ (156cm x 42cm x 30cm)
Full Shipping Weight: 138 lbs (62.6 kg)
Material: TPE